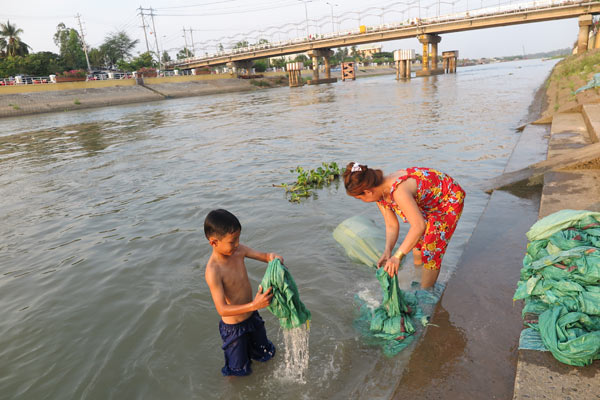 A woman and her son wash bags in the Mekong River on Monday. [Photos/by Xinhua and provided to China Daily]
The water discharged by China from its dam in the upper reaches of Lancang-Mekong River has reached the drought-hit countries downstream, including Vietnam. China's decision to release water from the dam is a perfect example of international cooperation.
China and Southeast Asian countries in the middle and lower reaches of the Mekong River aim to deepen their cooperation under the framework of Lancang-Mekong River Cooperation. But the Southeast Asian countries have voiced their opposition to China's projects in the upper reaches of the river. Studies conducted over the past few years, however, suggest the receding water levels in the river have nothing to do with China's hydropower projects, rather they are the result of the El Ni?o phenomenon.
That China has agreed to Vietnam's request and released as much water as possible from its dam has evoked a positive reaction from Vietnam.
China and Vietnam have tried to strengthen cooperation in this regard. In fact, there is enough scope for cooperation between China and the countries in the middle and lower reaches of the Mekong River, because their demand for water has been rising, especially to meet the needs of the agriculture sector.
Vietnam, too, is considering building reservoirs on the Mekong River, and for China, which is promoting its Belt and Road Initiative, they will offer a good opportunity to help build the needed infrastructure facilities.
Vietnamese people believe it is important to improve the flow of water in its rivers to help the agriculture sector, as well as to boost electricity generation. In this regard, the Vietnamese government has realized the importance of cooperation with China. But the Vietnamese people and government should also realize it is not up to China to provide enough water to meet their demands.
Therefore, it is important that the Vietnamese government improve the country's water infrastructure facilities and optimize the use of water in the agriculture sector.
China has taken practical measures to fulfill its international obligations. It will also help launch a number of cooperation projects, when needed, to strengthen cooperation with the member states of the Association of Southeast Asian Nations because the Mekong River is as much a part of China as it is of Myanmar, Laos, Thailand, Cambodia and Vietnam.
Both the hydropower projects in the upper reaches of the Mekong River and the cooperation mechanism Beijing intends to launch are for the common good of China and the countries in its middle and lower reaches, because all the countries that the river flows through share the same development destiny.
Pan Jin'e is an expert on Vietnamese studies at the Chinese Academy of Social Sciences. The article is an excerpt from her interview with China Daily's Zhang Yuchen.